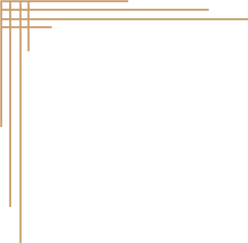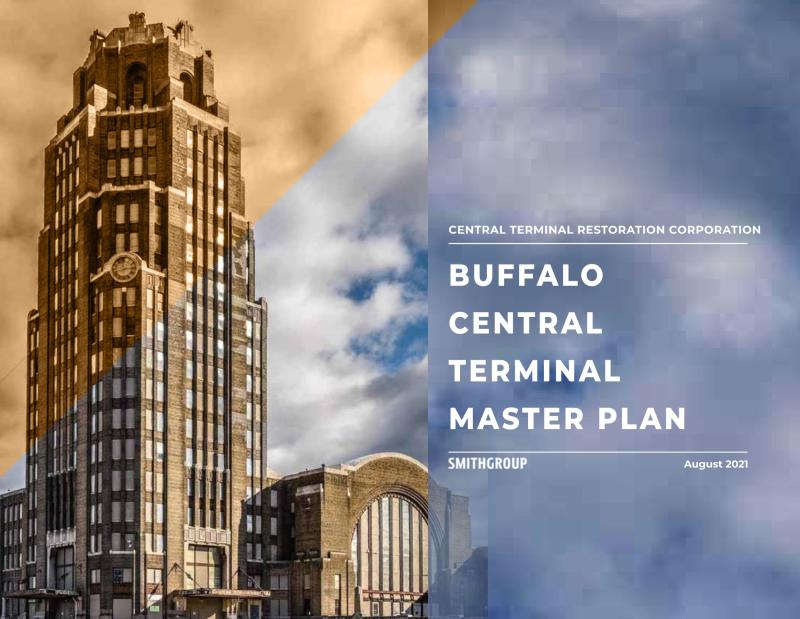 MOVED BY SHARED VISION
The Buffalo Central Terminal Master Plan
Our future is in motion. A year-long collaborative planning process shaped a community-architected, shared vision to transform Buffalo Central Terminal into a new kind of connective force.
The Master Plan is the first step of many on a path to realizing the audacious inspirations for a fully reimagined  Buffalo Central Terminal—a vibrant hub reborn in the heart of an already vital community at the center  of a city with the courage to acknowledge its blind spots and make certain its resurgence is shared by all.
Together we created a plan for the future and a path forward. 
Appendices
MOVED BY POSSIBILITIES
We started with a plan.
The Master Plan is the most in-depth guide ever created for the Terminal's reuse.
The Master Plan re-establishes the Terminal as a vibrant, year-round, regional venue that leverages diversity of spaces, and reflects cultural and economic assets of the Broadway-Fillmore Neighborhood.
Together with the community, we conceived of a new future rooted in equity, knowledge, and a shared vision for a path forward. Through community-driven planning on the ground, this planning process brought together a diverse individuals, from longtime Terminal champions and neighborhood residents to new Americans, local business owners to government allies, preservationists to pioneers.
The future of the Buffalo Central Terminal is inextricably tied to the future of the Broadway-Fillmore neighborhood. Embedded in our Master Plan is the Broadway-Fillmore Neighborhood Framework that identifies 1) key assets, 2) opportunities and challenges, and 3) a core set of goals and values for broad revitalization lifted up by residents. 
Our Priorities
Stabilize, adapt, and sustainably reuse the Terminal and grounds
Re-establish the Terminal as a hub of activity – a beacon and a destination that attracts people and investment
Celebrate and foster community voice and connections that shape broader revitalization efforts
Join and elevate the strong future of the city and region
A Holistic Strategy for Reuse
The Master Plan prescribes a phased plan for redevelopment of the Terminal and identifies key activation opportunities to leverage unique spaces that support local and regional enterprises, tourism and cultural exchange.
Early activation of the Civic Commons – a year-round event venue forthe sharing of civic experiences by all – brings people back to the main concourse and the grounds.
Later phases focus on the expansion of programs and activation of other parts of the building.
Create an ENGAGING CIVIC COMMONS as a year-round venue of events and activities centered around the Passenger Concourse – and a public plaza and adjacent grounds.
Leverage a DYNAMIC MIX OF USES – Cultural Center, Nonprofit Anchor, Innovation Hub, Housing, Film Industry – so that early phases will support a range of complementary creative, entrepreneurial and civic enterprises.
Support COMMUNITY QUALITY OF LIFE by tying our future to Broadway Fillmore and being an important part of social and racial equity through the Terminal's reuse.
Utilize SUSTAINABLE SYSTEMS AND PRACTICES while respecting the historic identity of the building and grounds.
Create WELCOMING OPEN SPACES with activated grounds and year-round use, recreational activities and events, to drive interest and support future building uses.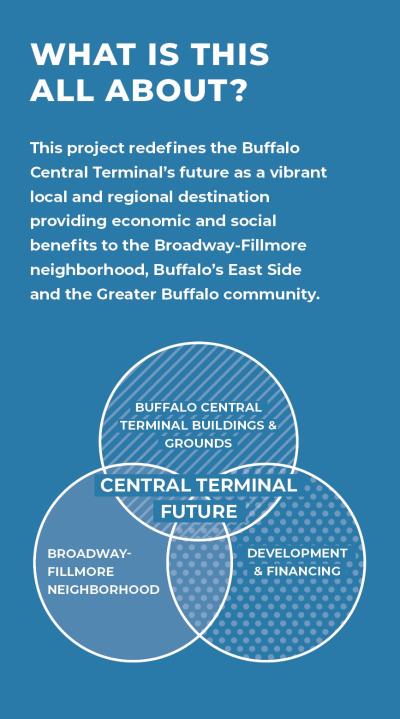 MOVED BY COMMUNITY
Genuine community engagement and listening was a pillar of our Master Plan process.
A cornerstone of our engagement was the creation of our Community Advisory Council (CAC). This 25 member group was composed of Broadway-Fillmore residents (a majority of the group) as well as other neighborhood stakeholders and leaders. CAC members participated in six meetings throughout the planning process.
Public Engagement
For a record of the public engagement process, check out the presentation and recap links below:
Public Meeting #1
Public Meeting #2
Public Meeting #3
Community Advisory Council
For a record of the Community Advisory Council (CAC) input process, check out the presentation and recap links below:
CAC Meeting #1
CAC Meeting #2
CAC Meeting #3
CAC Meeting #4
CAC Meeting #5
MOVED BY POSSIBILITIES
Our Next Steps
Select Developer(s) through a two stage process, starting with a Request for Expression of Interest (RFEI) that was issued in August, 2022 and then a Request for Proposal (RFP) that will be issued to selected teams.
Activate the Great Lawn with events and activities.
Utilize funding to stabilize the Central Terminal and start the Civic Commons, by reopening the Concourse and making the outside spaces safe and useable.